Are you looking for the best Party Buses can be very tedious and sometimes not worth your penny. Is the party bus fully-equipped? Is it safe and clean? Is the driver knowledgeable of the entire service area? Of course, you don't want your party to fail just because of some details that are not addressed by the party bus company.
When you choose us, all of these issues will be addressed! We're proud to say that our fleet is all fully-equipped and that they are safe and clean! And, of course, our drivers definitely know the area! We have what it takes to make your night go off without a hitch!
Our fleet offers stretch limos, large party buses, SUV limos, and even more options. Whether you've got a group of 10 or 40, whether you're planning a wild night on the town or an elegant wedding, you'll surely find something in our flee to accommodate your needs.
State-of-the-art audio and video equipment
Flat screen television on the rear & front parts w/ the latest sound system
Mini-bar where you can stock your refreshment, w/ ice & drinking glasses
Adjustable lighting system to suit your party mood
Music CDs with thousands of songs that you can choose from
Comfortable leather seats and covered walls
Professional chauffeurs equipped with GPS gadgets
Total privacy for your party
PartyBusNewJersey.com will ensure that your experience with us is an unforgettable and pleasant one. Rely on service, quality and professionalism that PartyBusNewJersey.com has to offer.
We're Party Bus New Jersey. We're New Jersey's leading party bus company, providing top quality customer service, 24-hour transportation in the state's most lavish party buses!
Call us Today! 732-523-1449
A Small Sample Of Our
Luxurious Party Buses
12 Passenger Party Bus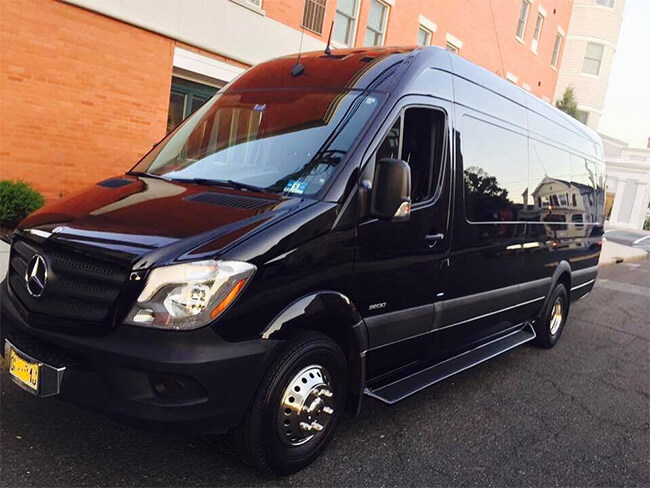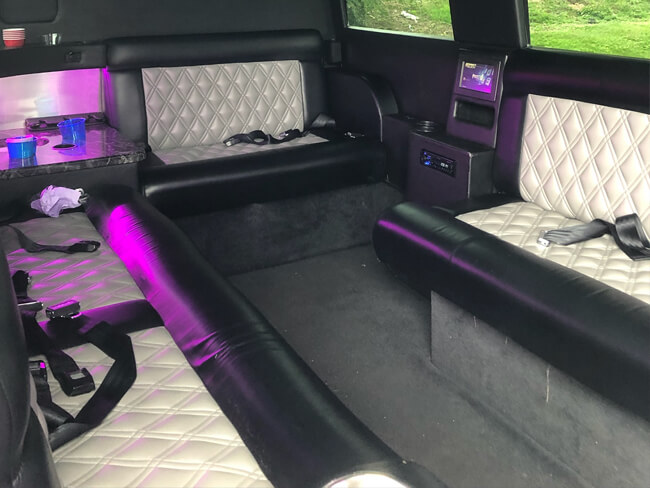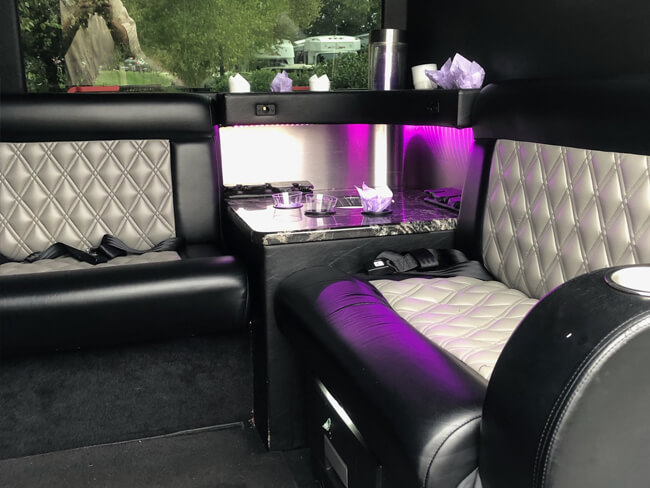 A luxurious Mercedes party bus with a state-of-the-art sound system, colorful lights, CD and DVD layers, TV, iPod connectivity, and optional red carpet service.
25 Passenger Party Bus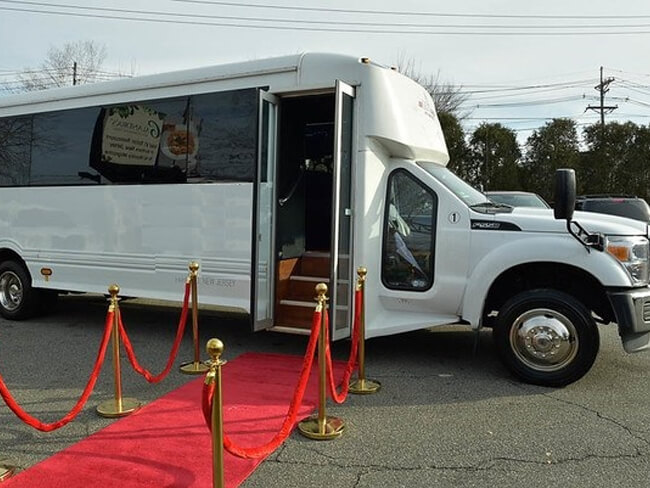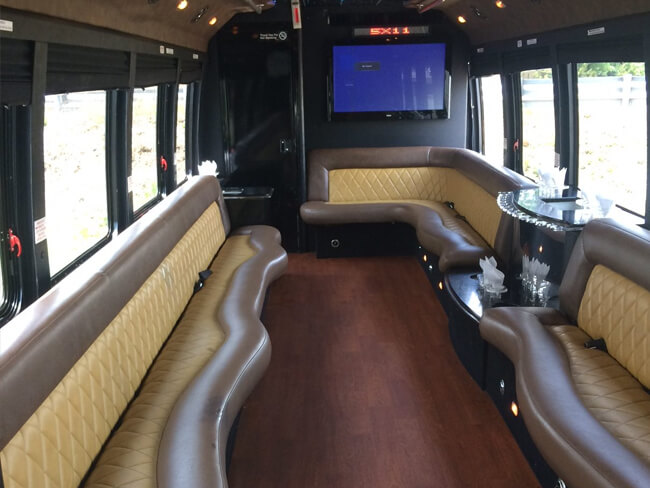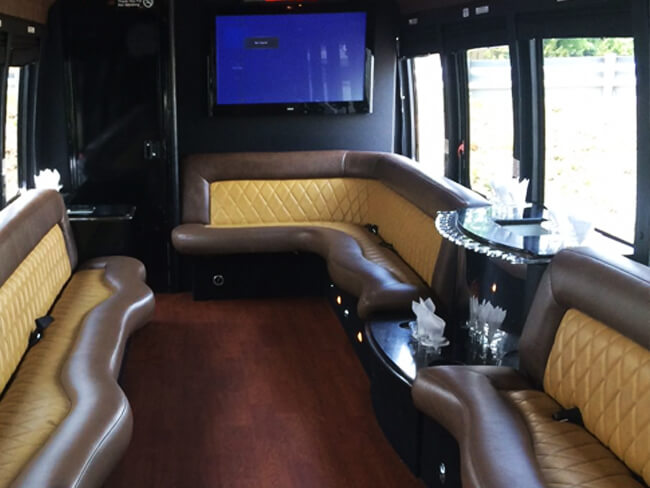 Spacious 25 passenger party bus with two-tone leather seats, hardwood floors, an amazing sound system, plasma TV, iPod hookup, colorful LED and motion lights, coolers, bathroom, and plenty of room to dance!
28 Passenger Party Bus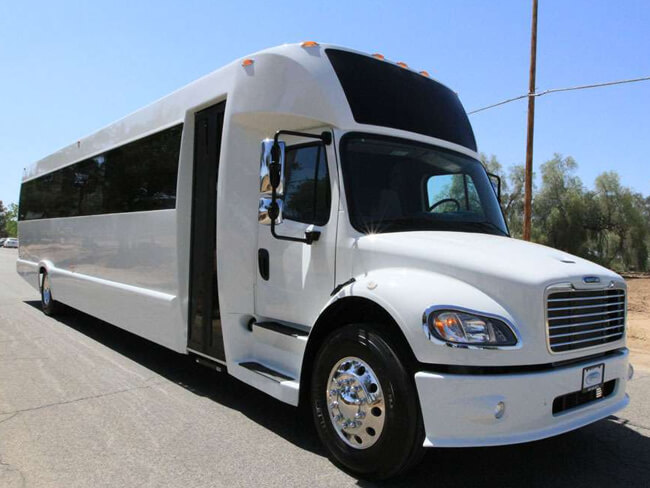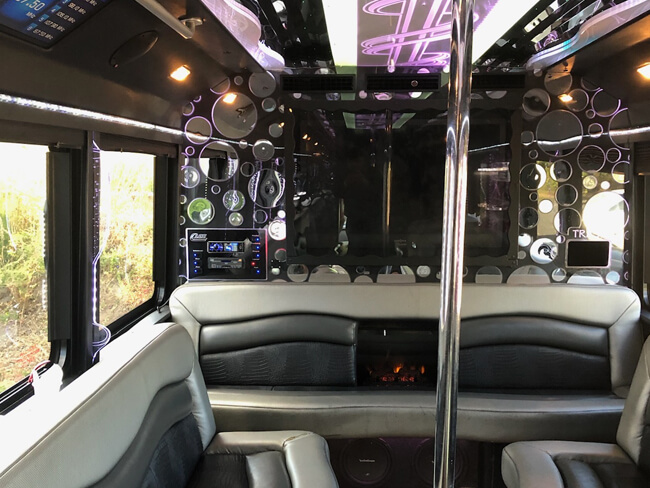 A top of the line party bus that's perfect for any type of event. On board there's hardwood floors, two dance poles, a booming stereo, colorful LED lights, laser and fiber optic lights, privacy curtains, and more. This is a great bus for weddings, birthdays, and more!
30 Passenger Party Bus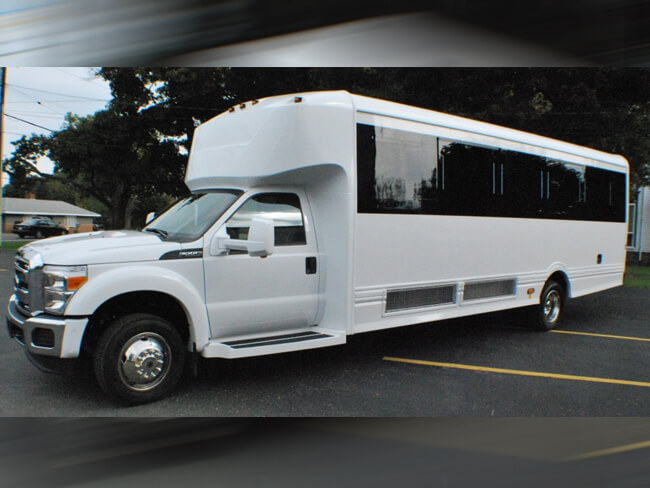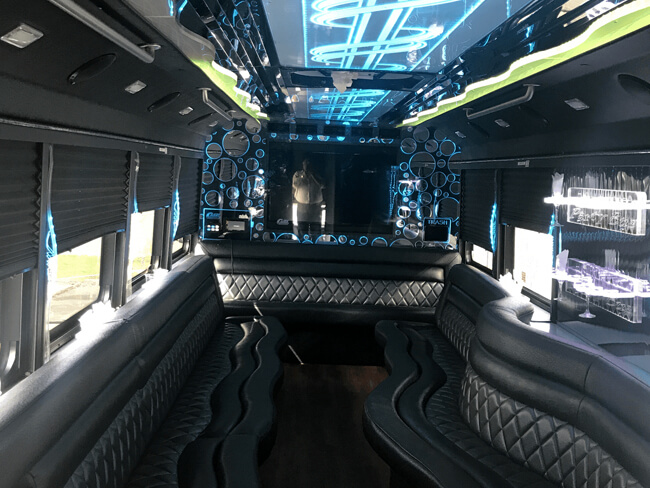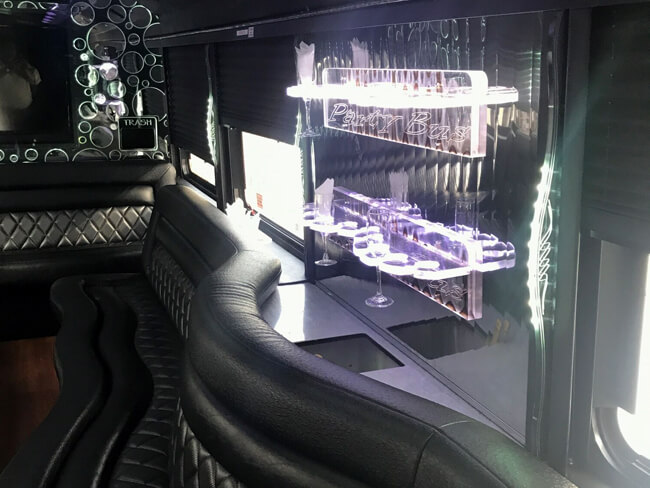 This spacious party bus has much to offer. Leather seating, hardwood floors, vibrant lighting effects, plasma TVs and a DVD player, beverage coolers, LED and laser lights, AC/heating, CD player and iPod hookup, and more!
40 Passenger Party Bus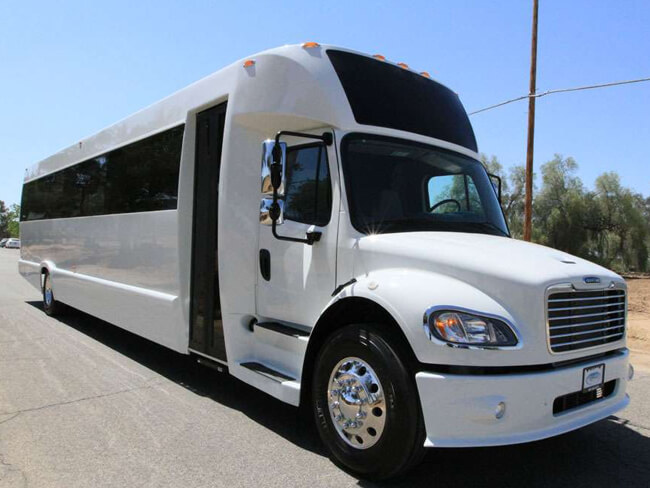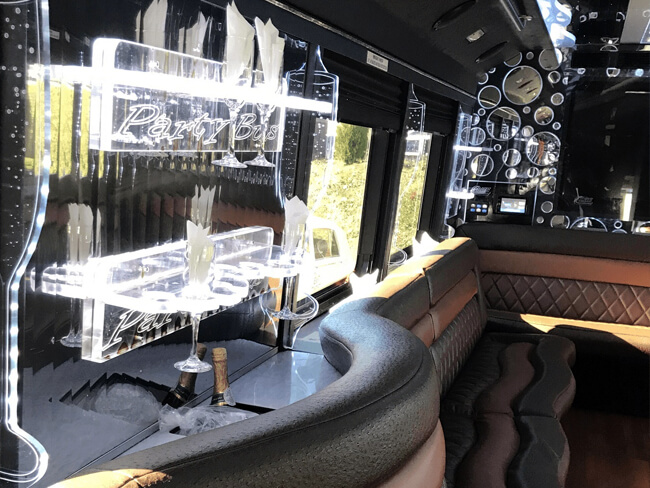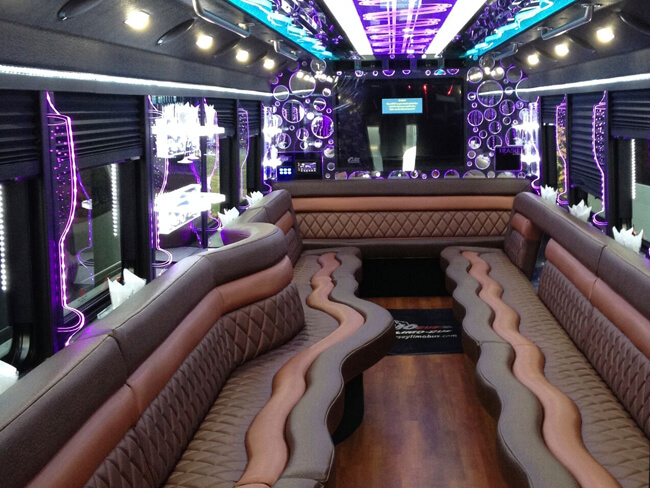 Our 40 passenger party bus is a beautiful and spacious party bus that's perfect for anything. There's a spacious cooler/bar area, vibrant lights, large TVs, and plenty to keep you entertained and comfortable.
40 Passenger Trolley Bus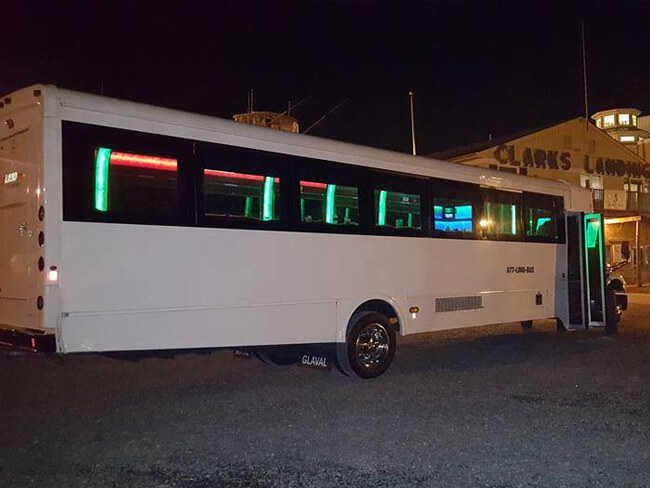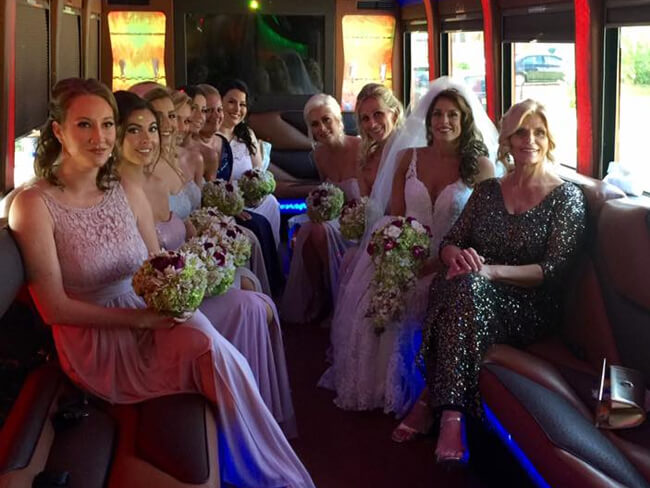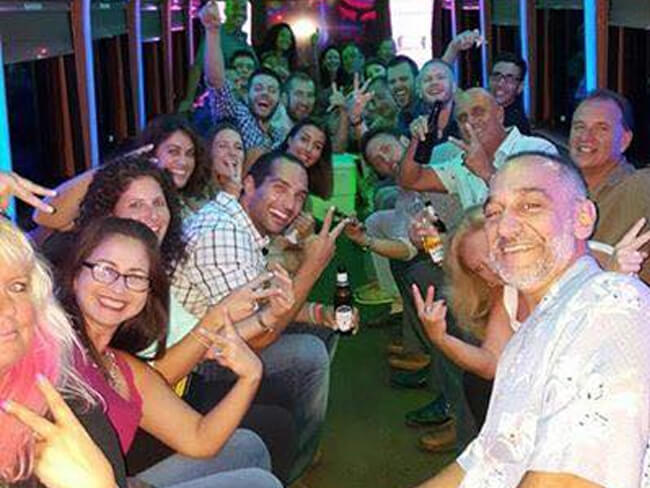 On our 40 passenger trolley bus, you'll find plush leather seats, hardwood floors, TVs, a DVD player, iPod connectivity, CD player, LED and motion lights, concealed coolers, ample cup holders, a rest room, and more! As with any of our fleet, you can enjoy renting this vehicle with our wedding package that includes red carpet service and champagne.
50 Passenger Party Bus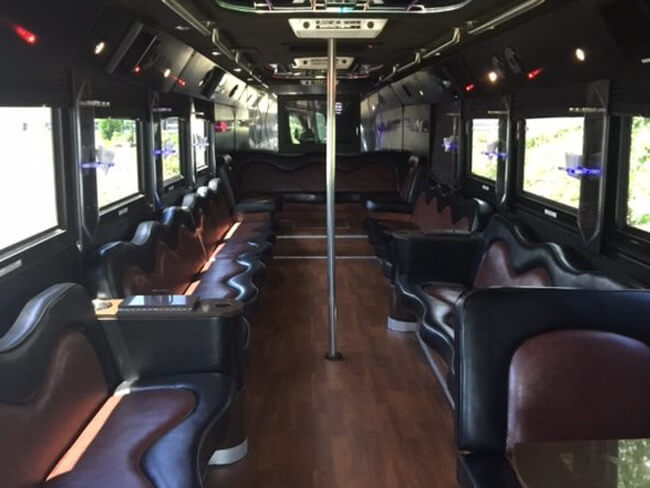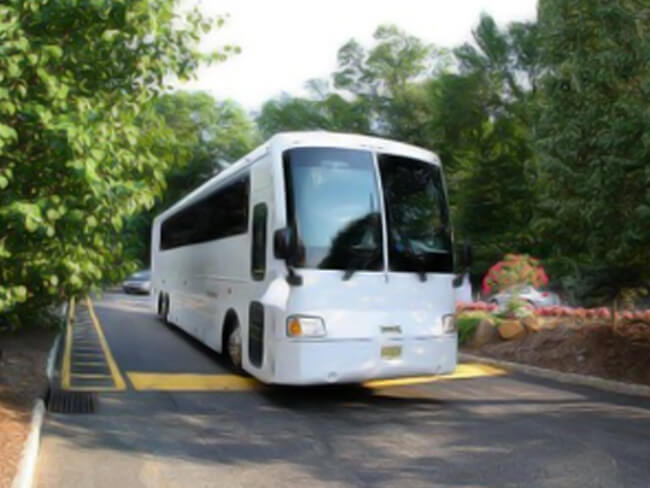 Our 50 passenger party bus a super spacious option for the biggest groups. On board you'll find supple leather seats, TVs, DVD player, CD player, iPod hookup, satellite TV, laser lights, fiber optics, and LED lights, a VIP section, coolers, on board restroom, and more. It's a truly luxurious way to ride!
10 Passenger Chrysler Limo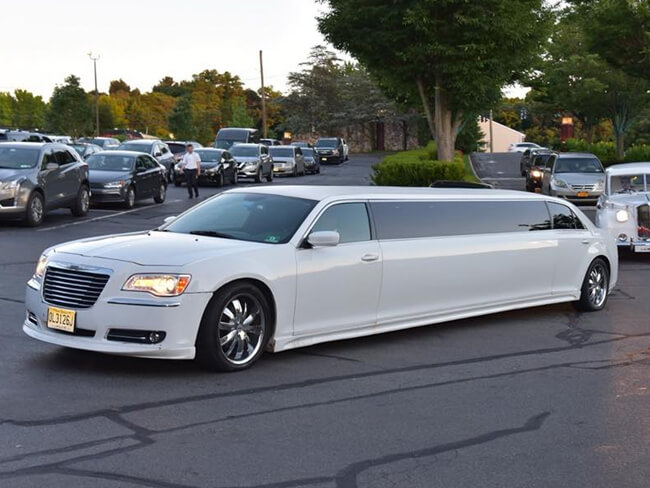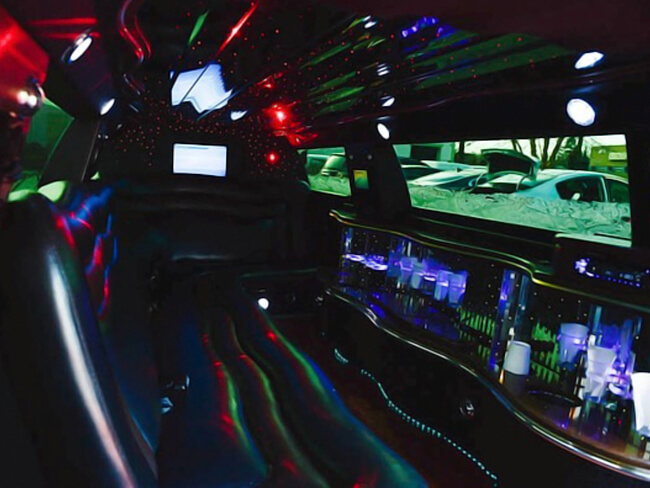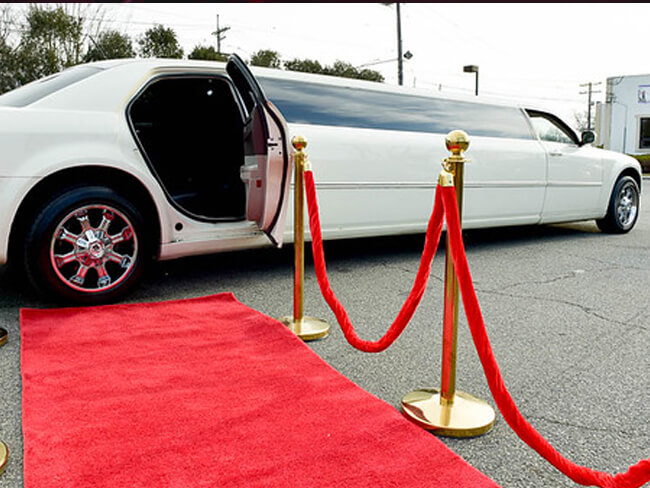 Our 10 passenger Chrysler 300 limo is a beautiful vehicle for weddings, nights on the town, and anything in between! On board this stretch limousine you'll find plush leather seats, TV and DVD, iPod connection, vibrant lighting, state-of-the-art sound system, privacy partition, and wood floors.
12 Passenger Party Bus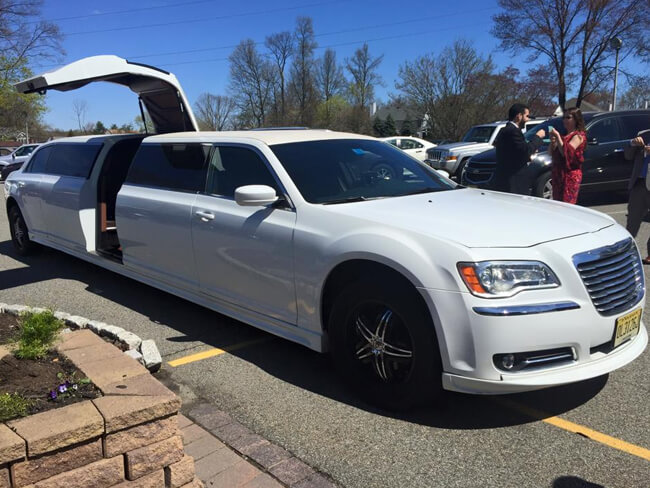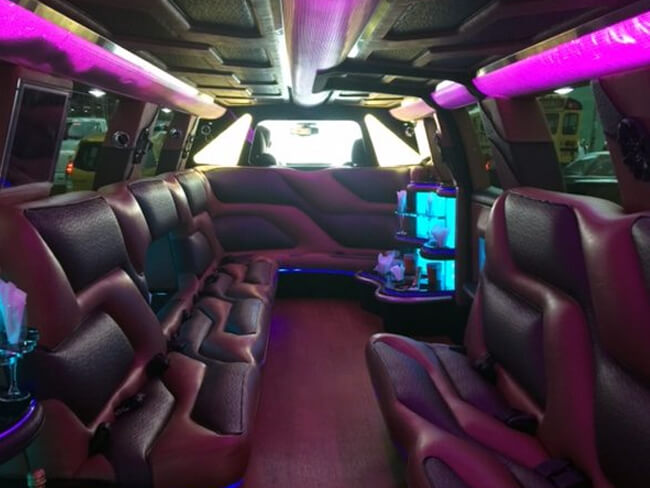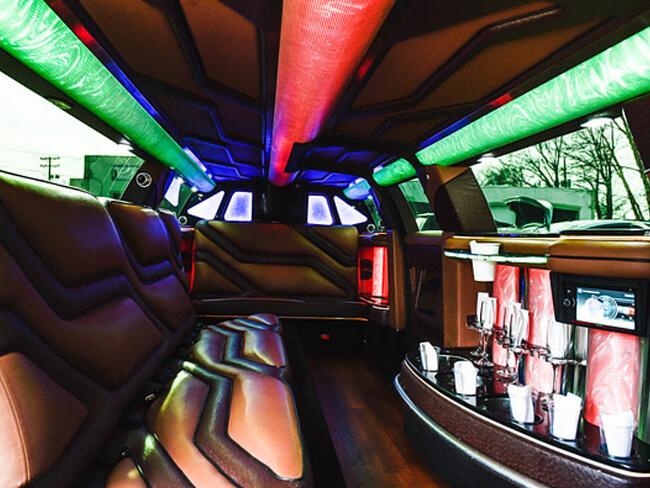 You'll love our beautiful Chrysler 300 limousine with jet doors! This limo has plush two-tone leather seats, elegant wood floors, LED lighting, AC and heat, beverage coolers, and a great stereo system.
15 Passenger Sprinter Limo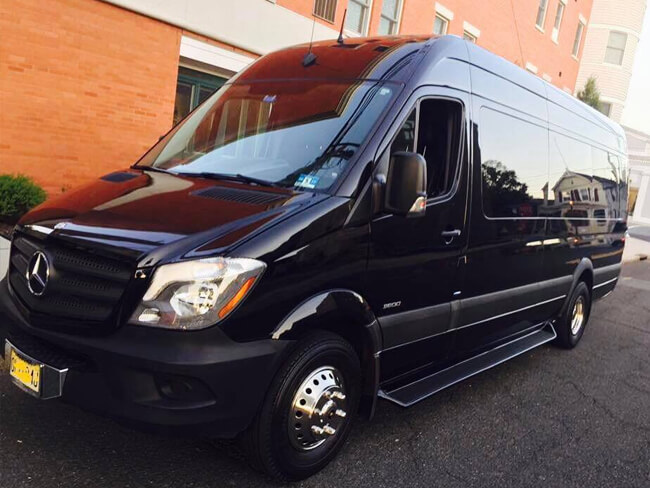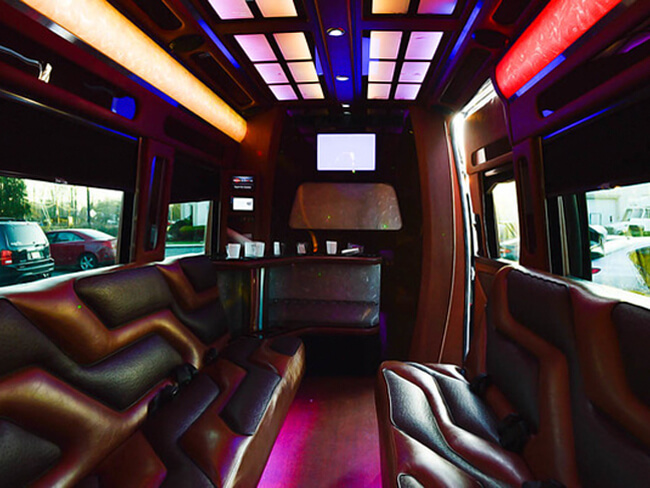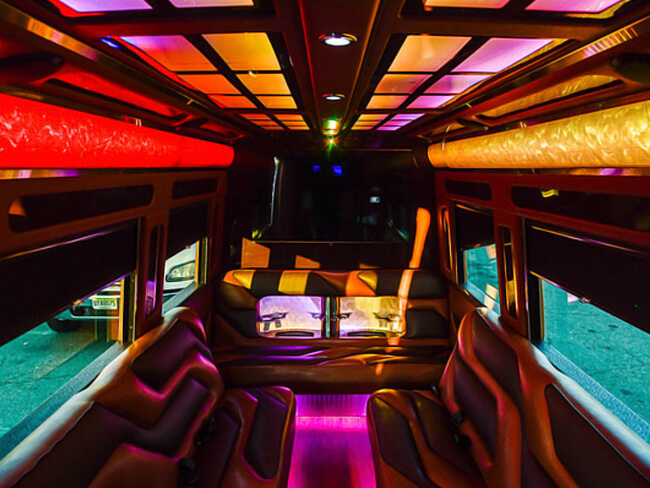 Our beautiful Mercedes Sprinter limousine is spacious and beautiful. It has a plasma TV, a DVD player, laser and fiber optic lights, a booming sound system, CD player, coolers, and more. You'll have a great time on this us!
20 Passenger Escalade Limo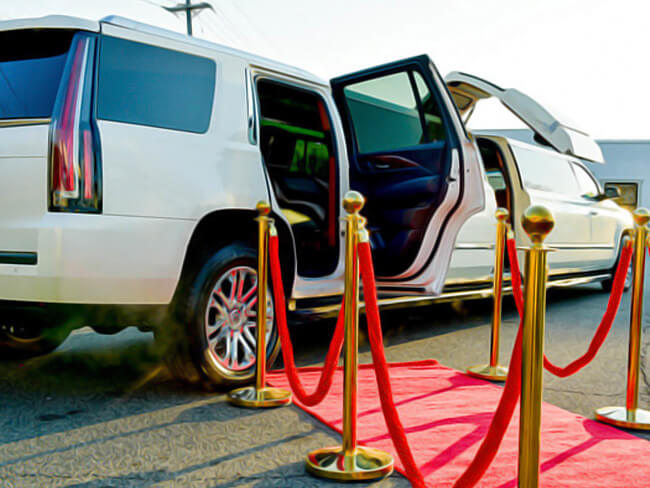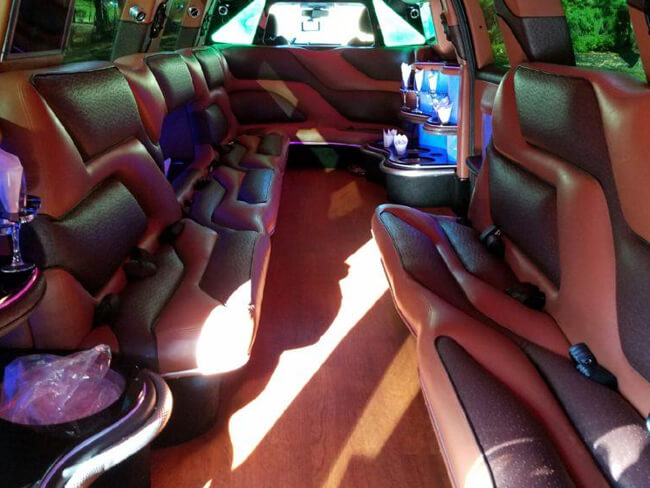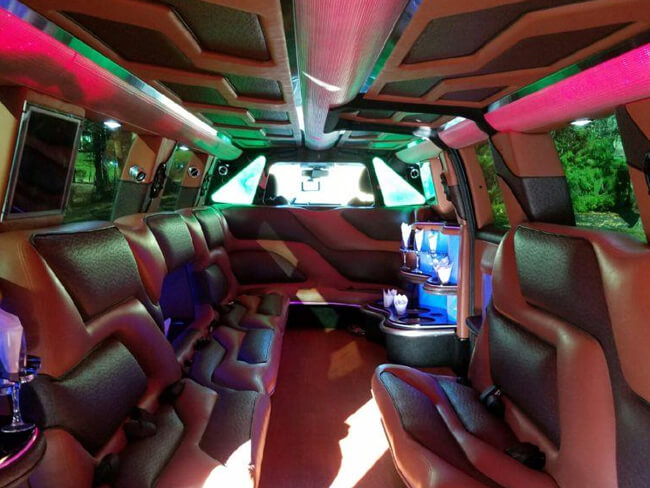 If you want to turn heads, then this 20 passenger Cadillac Escalade with jet doors is just what you need! Elegant wood floors, leather seats, TVs and DVD players, custom LED lights, AC and heating controls, and more. It's a perfect limo for birthdays, concerts, and nights on the town!
1966 Rolls Royce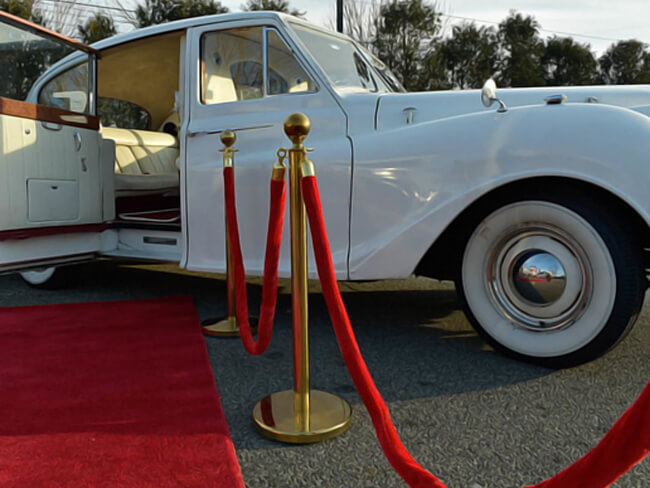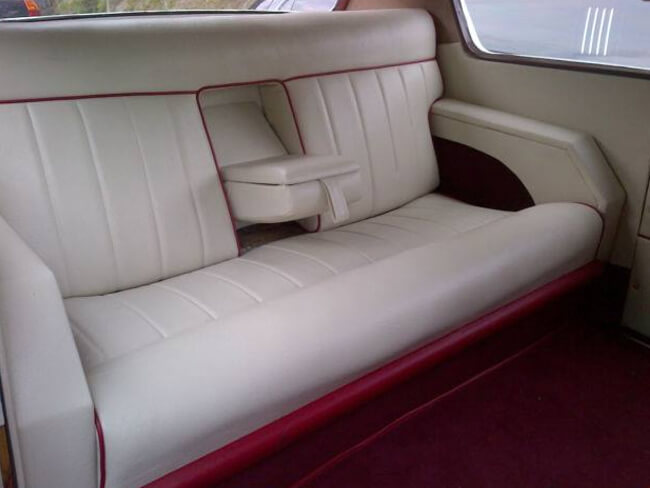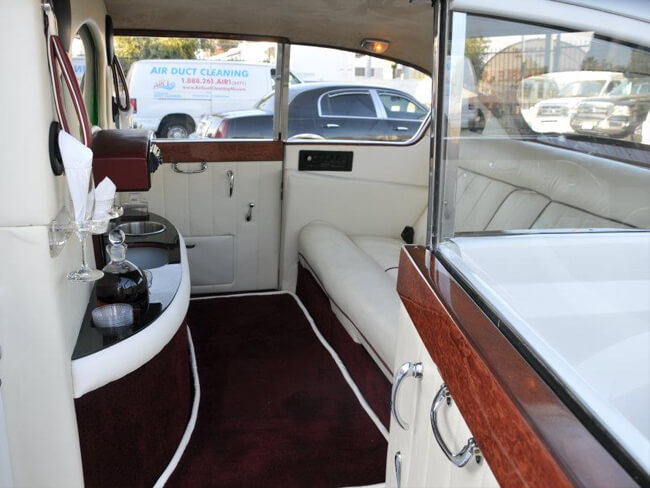 If vintage is your style, we have this gorgeous 1966 Rolls Royce. This beautiful Rolls Royce has a white leather interior, a modernized engine and AC, polished walnut bar, plush carpeting, TV and DVD, privacy partition, and more. It's a truly luxurious vehicle!
Rolls Royce Phantom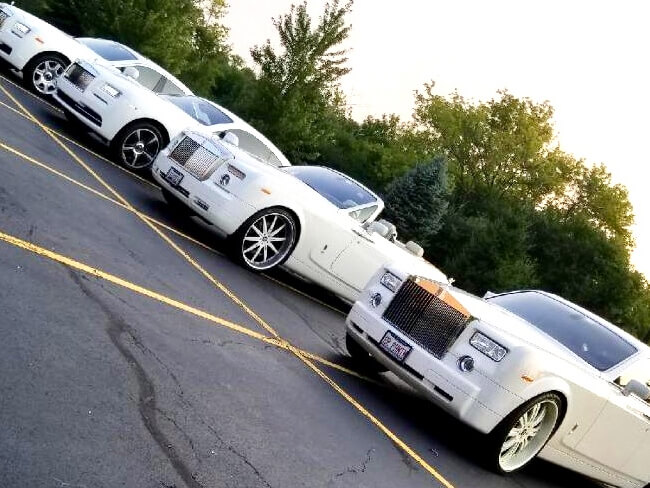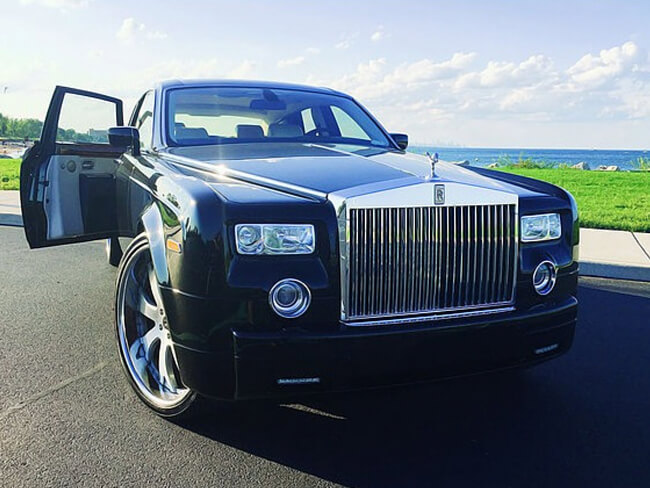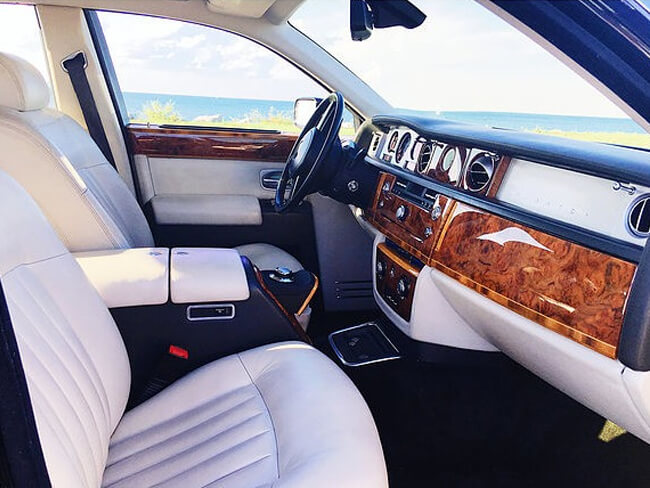 Our Rolls Royce Phantom is another luxurious option. If you want a classic, elegant, vehicle this is truly a superb choice. Inside this classic limo you'll find dual monitor entertainment system, climate controls, a great sound system, and beautiful leather upholstery.
1964 Rolls Royce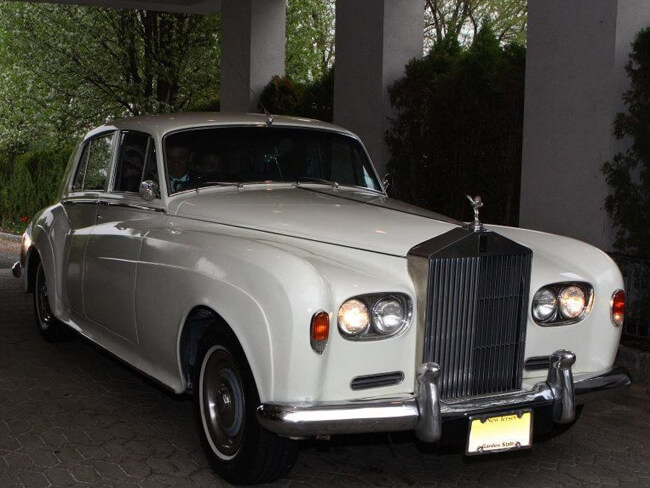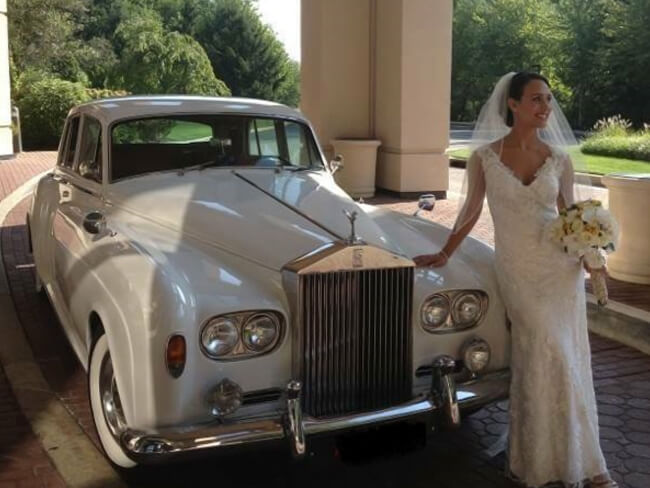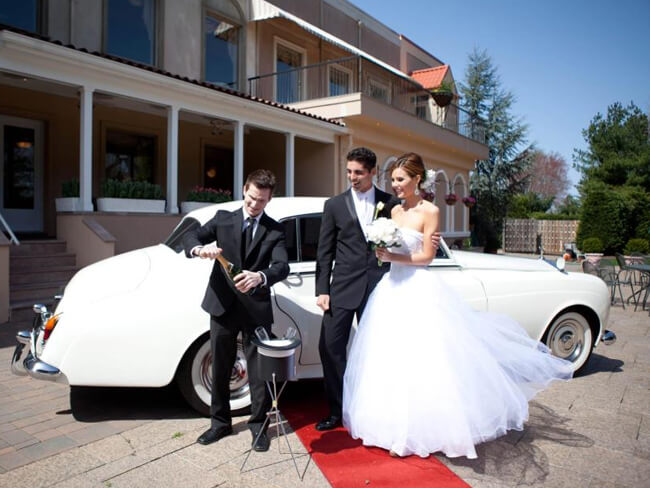 Our 1964 Silver Cloud Rolls Royce is another beautiful vintage limo. State of the art sound system, plush red carpet, tailored upholstery, and a well maintained engine. This is an elegant, classic limo that's perfect for weddings.
Sedans, SUVs, & Vans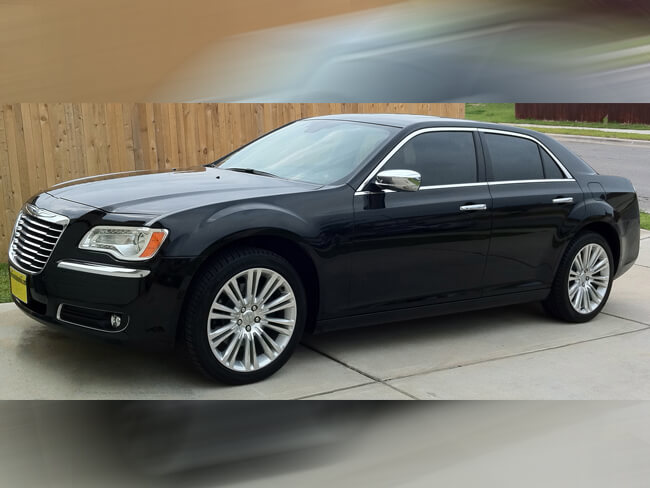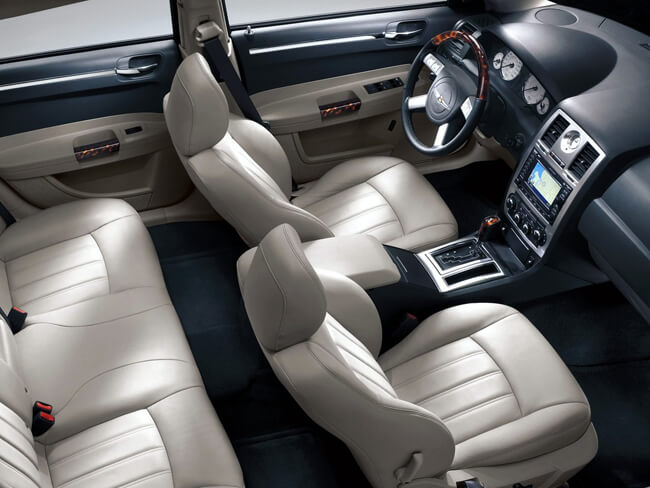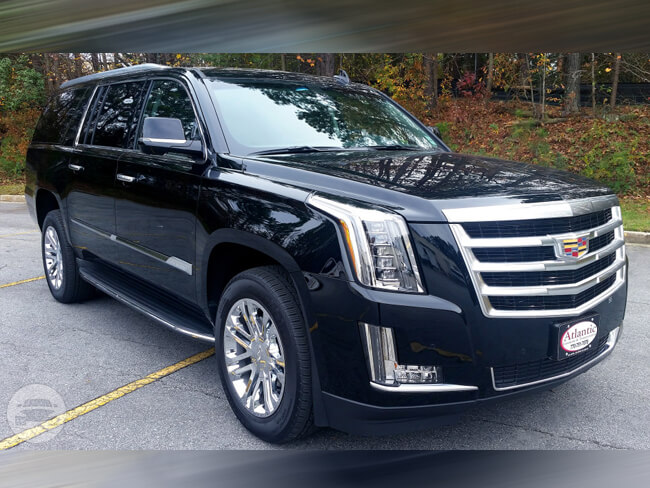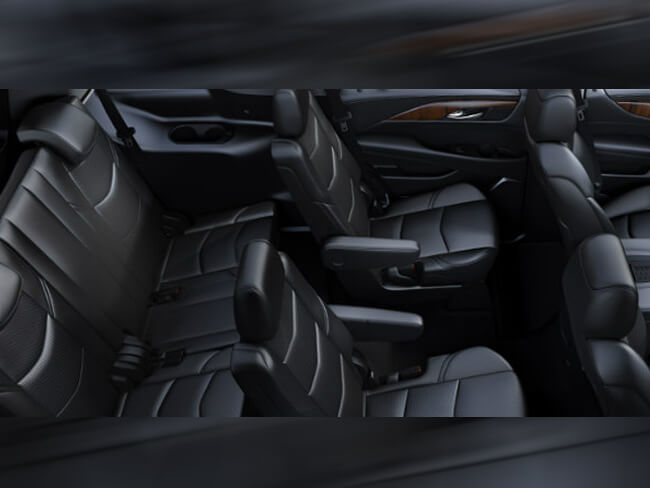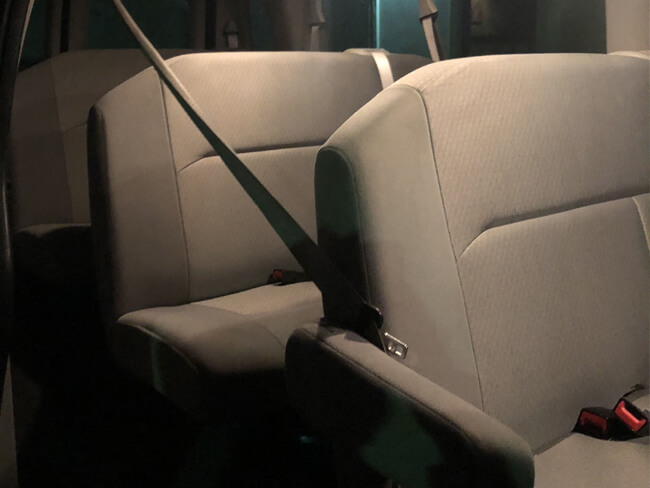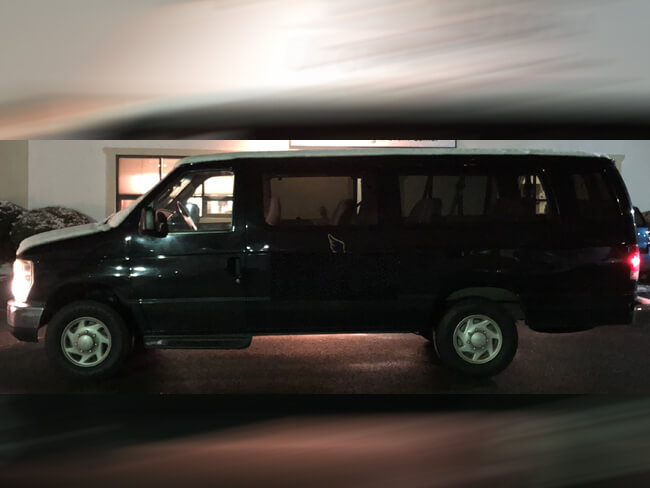 Our fleet of sedans, SUVs, and vans offer convenience and comfort for all of your traveling needs. You'll enjoy a quiet, comfortable ride, room for your luggage, and affordable rates.
55 Passenger Coach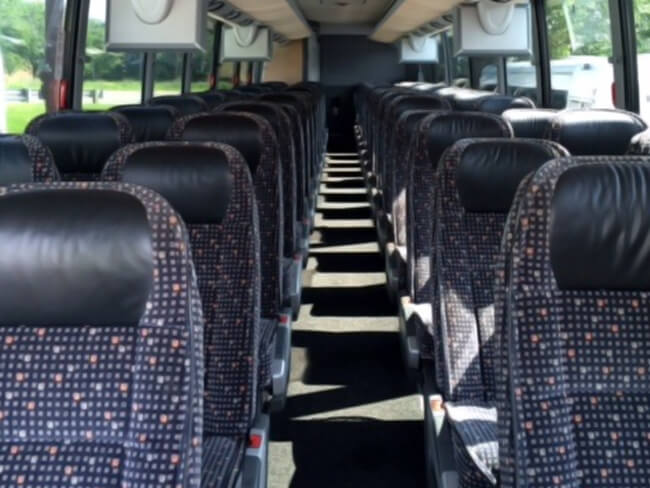 For the biggest groups, our coach bus for up 55 passengers will get you where you need to go. This big bus has a spacious interior, plush high-back seats, AM/FM radio and CD player, a great sound system, plenty of luggage room, and AC temperature control. Much like our friends Limo Service Orlando.